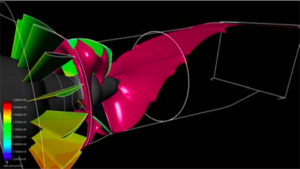 Created a strategic plan and overview to enlarge the amount of fish friendly hydropower and reduce the tension field between ecology and renewable energy policies in the waterways and watersystems managed bij Rijkswaterstaat.
Developed a research plan and team to investigate and model different fish friendly turbines to reduce the fish mortality rates at the run of river hydropwer stations in the Netherlands. This by setting up a team consisting of government, university, energy companies, ecology specialists and turbine manufacturers to model and research possibilities and execute a pilot at one of the hydropower stations.
Coordinated research to reduce fish mortality rates at the old run of river hydropower station of Hagestein
Developed maximum allowed fish damage criteria for the procurement of a large array of new to build pumps in the Afsluitdijk sluice gates.